Well almost, in 2 days it will be, but I feel I have enough evidence to write up a quick review of the beast. So Tado is a concurrent to nest which you can purchase for most houses/apartments depending on the boiler you have. It is a thermostat unit for your boiler. It is highly recommended you go through the site to confirm that your setup is compatible.
My device took a while to arrive because after Christmas, Tado became really popular and they started to have an impressive (several weeks) backlog of orders. Eventually I received this.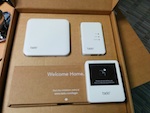 I had a little trouble with the wiring due to the fact that my house is not exactly what you would call standard, so when I followed the wiring examples from the website, it just did not work for me. This is also because I can only heat water at the same time as the boiler is on, there is no separated pipes. After dealing with support, they were a bit slow in providing me with the right wiring, I ended up giving a call to my electrician to figure this out, the result being here.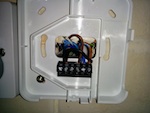 Once this is wired right, you can put the cover back on and check on the website that all the bits are working. In fairness, apart from the minor setback in wiring, it is a piece of cake to install. You register the device with the user/password written on the card in the box.
You can then setup our phone or any other tablet to register with tado, this will allow tado to use geo location to save on power/heating when you are outside your home. The website interface reports at all times on the current temperature inside and also the weather report that it is supposed to use for intelligent heating.

The reporting is fairly straight forward, it is able to tell you at a glance how much heating it had to do (dark blue patterns on the graph), how long you were away on a given day and other useful information. For heating, there are two main settings for the device: savings or comfort. Savings is when you want to spend at least as possible on your bill, so it will not heat straight away when it detects you are moving home whereas comfort will be much snappier to react. I chose savings because I do not mind that the house will take slightly longer to heat up.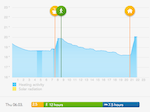 You can also set temperatures for normal operations and sleep, on the web interface or your phone. The phone application is quite responsive and intuitive, it will notify you of current status and will change colors to let you know which mode is it in, like below in away mode when you step out of your place.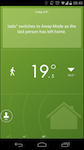 It will also change context when the night comes, depending on when you have set up your sleeping hours. I have decided to go for custom times depending on the days as I do not wake up at the same time regularly. You can also override all settings to manual and just heat up the place if you need to, there is a button on the device itself, or you can control this using the application or the web interface.

I bought the tado to finally replace my timer with a clever thermostat and it does just that and very well. In the end, I am unsure if it will cost me a bit more than it used to mostly because i used to heat up the house 3h per day, and I think at the moment it heats up for slightly longer than that. That said, having a house that is at the right temperature all the time and reporting on energy consumption is quite good.
Very happy about the purchase. I have asked about a timer functionality for summer so i can heat up my water a couple hours a day but no response so far.